Meet Dr. Jennifer Hammer-Codd
Joining a Legacy of Health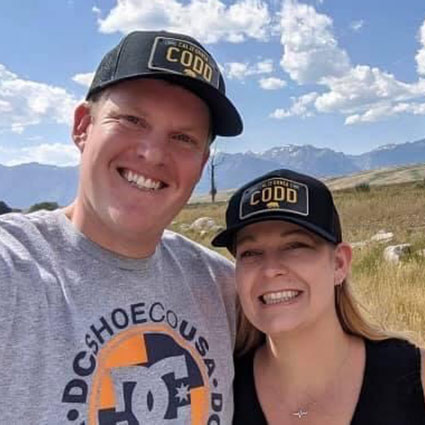 Dr. Jennifer Hammer-Codd, also referred to as Dr. Jen or Dr. Codd, has always had a passion for helping people. She grew up riding horses and was often adjusted due to injuries sustained from riding and inevitable falls. Growing up in a chiropractic family, natural health and healing without the use of pharmaceuticals was a deep rooted philosophy. She never thought of chiropractic care as a career path, it was just a part of her lifestyle and was always the primary healthcare before medical doctors.
After spending nearly as much time working with people in the healthcare field she recognizes that health is our greatest wealth and is driven to share the message to as many people as possible.
Dr. Codd spent 10 years building a career in finances and lending. She loved helping people navigate the financial system and working with what is often seen as an individual's most valuable asset. After spending over a decade in the financial world she felt a universal shift that it was time to move on. Meanwhile, Dr. Hammer kept suggesting that she go into chiropractic, perhaps knowing passing on the business was a good retirement plan. They shared patients and customers between the practice and the bank, and Dr. Hammer's patients always talked about how wonderful a chiropractor her father is. Finally, Dr. Codd could see it for herself: chiropractic was her calling as well.
Inspired by the Body's Healing Power
Dr. Codd graduated Cum Laude from Life Chiropractic College West. The philosophy of chiropractic is something she deeply identifies with, which inspires and fulfills her everyday. Dr. Codd says the best part of her job is getting to know her patients and helping them feel better and heal better.
A Life Built on Wellness
Dr. Codd sees a wide variety of conditions, and that diversity keeps her work interesting. She is trained in techniques including Diversified, Gonstead, drop table, the Activator Method®, and toggle recoil. She has also completed additional seminars in knee chest upper cervical, advanced orthogonal, and NET.
She's excited to continue growing as she leads the practice that her father, Dr. Ronald Hammer, founded. For her, there's nothing better than building relationships with patients while helping them get the most out of life.
Outside the Office
When she's not at the practice Dr. Codd loves spending time outdoors with her husband, two kids, and the family dog. She's passionate about hiking, exercising, golfing, reading, learning new skills, and still enjoys getting on a horse from time to time.
Schedule an Appointment
Contact us today to get in touch with our team and begin your wellness journey.
---
Dr. Jennifer Hammer-Codd | (707) 763-0564