Ultrasound Therapy at Hammer Chiropractic Office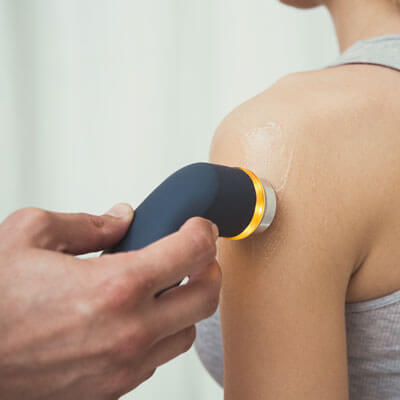 Ultrasound therapy reduces inflammation, relieves pain and inflammation, and promotes healing. At Hammer Chiropractic Office, we often use this therapy for problems affecting your soft tissues or joints.
How Does It Work?
Ultrasound emits high-frequency, inaudible sound waves to produce a safe, gentle heat. This slight elevation in temperature increases blood flow in the affected area, relaxes muscle spasms, boosts your metabolism, and promotes your body's healing response.
Benefits of this therapy include decreased pain, stiffness, and spasms along with reduced swelling. It's a great response for conditions including carpal tunnel syndrome, chronic shoulder pain, joint pain, ligament injuries, and tendinitis.
What to Expect
Don't look around for a screen when you come into the room. This is a therapeutic device, not a diagnostic tool. Still, the process is similar to that of an ultrasound screening.
We'll start by evaluating if you're a good candidate for this service. We won't use this technique on patients with malignancies, vascular issues, or metal implants near the affected area. This service isn't appropriate for use on the abdomens of pregnant women, either.
Enjoy an Easy Recovery
During a standard session, we'll apply a cool gel to your skin to enhance the flow of the ultrasound waves. After that, one of our doctors will place a round-headed wand or probe in direct contact with the target area. The probe will be moving around throughout the entire session. You may feel a pleasant warm sensation, but it won't be uncomfortable.
Each session will take less than 10 minutes. This is an additional service that is not included in your regular appointment.
Contact Us Today
Therapeutic ultrasound has been shown to facilitate the body's healing process at the cellular level. Get in touch with our team today to discuss whether this therapy can help you on your road to recovery.
CONTACT US
---
Ultrasound Therapy Petaluma CA | (707) 763-0564